IN THE DARK ROOMS - IRIS NESHER5>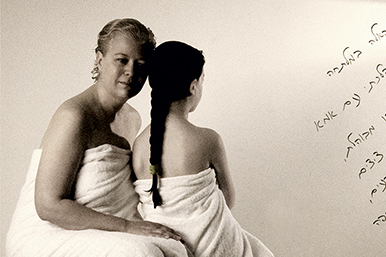 In the series In the Dark Rooms I tried to explore the mystical relationship between self and language. I contacted prominent Israeli women who incorporate language into their art - novelists, poets, playwrights and asked them to choose a word or a sentence that holds special meaning to them. I asked the normally reclusive and camera shy women to explore their physical as well as their intellectual secret self.
Each writer added a highly personal text to the photograph which explains the word she chose.
Nesher attended the School of Visual Arts in New York and later on California Art Institute of Los Angeles. Her work has been featured in galleries and museums in both United States an Europe.
The exhibition In the Dark Rooms was shown at:
The Museum of Israeli Art
The National Museum of Contemporary Art in Moscow
The Art Museum in Siberia
Bruno David gallery in the USA
Museum of Art in Guadalajara, Mexico