Farewell to the Wagons. An exhibition by Andrzej Polakowski5>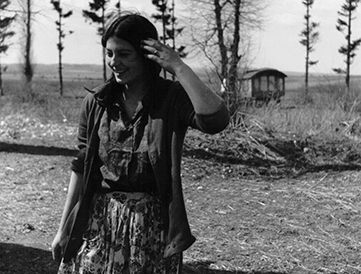 "Farewell to the Wagons" – photographs taken in the 1960s by Andrzej Polakowski, capturing the breakthrough moment in the history of the Romani people, as they moved from a nomadic to a settled lifestyle. The photographer visited the last encampments of nomadic Gypsies to show a world that would soon disappear from the cultural landscape of Poland.
The pretext for taking the photos was the preparation of photographic materials for literary coverage by a famous journalist from Lublin, Zdzisław Kazimierczuk, titled "Farewell to the Wagons", whose purpose was to convince the public of the advantages of a settled lifestyle and at the same time to indicate the social benefits of settling the Gypsies.
Shortly after the Second World War, following the example of the Soviet Union, the People's Republic of Poland attempted to end Gypsy nomadism, either by encouragement or obligation. The effects of these activities could be seen in the late 1960s and early 1970s, when Gypsies slowly began to accept the "inevitability of fate" and live in "civilized conditions", in flats, houses, barracks... Polakowski's photographs show beautiful, richly decorated wheelless wagons standing on bricks.
The photographer managed to join the world of the Gypsies in a natural way, which is a great achievement considering that at the time they were a highly exotic element in Poland. Thanks to the trust of the people he photographed, we can see the daily nomad life of the Gypsies, their common meals, trade, fortune telling and, following the actions of the Polish People's Republic, the first steps towards civil society, such as settling into new homes. The collection also includes photos of Romani performers, singer Randia, Edward Dębicki, Sylwester Masio Kwiek, and others who enjoyed popularity in the 1960s and 1970s.
The exhibition by Andrzej Polakowski will be displayed at the Museum for Intercultural Dialogue from 19 November 2017 to 28 February 2018.
Andrzej Polakowski, born in 1937 – artist photographer, Master of Science in Civil Engineering, a member of the Association of Polish Photographers and a honorary member of the Lublin Photographic Society. He is the author of several dozen individual exhibitions and a participant in over 40 collective exhibitions of artistic photography in Poland and abroad. His works are characterised by social and cultural themes, as well as sociological and industrial photography; Polakowski also documented the artistic life of Lublin. His photographs have been published several times in the Paris monthly "Le Monde Diplomatigue" (2012). Andrzej Polakowski is a winner of numerous awards and distinctions for his work, including the Cultural Award of the Lublin Province (2013), while Polakowski's album "Pożegnanie taboru" (Farewell to the Wagons) (Petit Publishing House, 2007) was awarded the "Most Beautiful Book of the Year" in the competition of the Polish Association of Book Publishers.

Exhibition Curator: Andrzej Polakowski
Exhibition Coordinator: Agnieszka Caban
PATRONAT HONOROWY: PARTNERZY:
Stowarzyszenie
Romów Polskich - DYWES
PATRONAT MEDIALNY: