The Art of Photojournalism - photographs of Newsha Tavakolian5>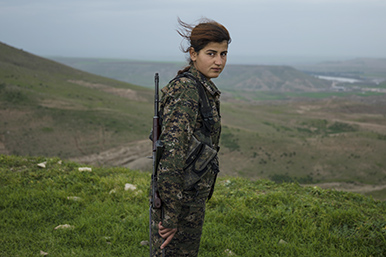 The photograph exhibition of Newsha Tavakolian, a young photoreporter from Tehran, consists of diverse images of recent and contemporary history of Middle Eastern countries. It depicts an young Iranian girl visiting an entertainment park with her family but also an image of the sky commemorating the anniversary of the oft-forgotten Iran-Iraq War (1980-1988), which consumed over a million lives.
Newsha Tavakolian, in her work, combines war photo reporting with art. At eighteen years old, she was the youngest photographer documenting the anti-government protests in Iran's capital after the presidential elections of 1999. A year later she started working in a New York photo agency Polaris Images. She traveled with her camera to Iraq, Lebanon, Syria, Saudi Arabia, Pakistan and Yemen. Her works have been published in the largest international dailies and magazines, including "Time Magazine", "Newsweek", "Stern", "Le Figaro", "The New York Times", "The New York Times Magazine", "Der Spiegel" or "Le Monde".
Since early on in her career, the artist has avoided cheap sensationalism, inequality and extremes. Instead, she focuses on the personal experiences, which she strives to capture in her frame. She has never considered herself a war photographer, despite the fact that she always worked in conflict-ridden places.
After receiving the prestigious Prince Claus Award in 2015 (she donated 45,000 of the 100,000-euro prize money to organisations helping Iraqi and Syrian refugees), Newsha Tavakolian said that "it is hard to take joy from this award as much as I would like to when the region I live and work in is ridden with conflict and tens of thousands seek refuge in faraway countries".
In June 2016, Newsha's exhibition in Singapore was censored. Fifteen photographs depicting young Kurdish women fighting against the Islamic state were removed from the exhibit. Black plaques were shown in their place.
Since the 24th of June, an exhibition in the Museum for Intercultural Dialogue has shown the photographs from the censored cycle Ocalan's Angels, as well as photos from the Iran Wall cycle, in which the author depicts the socio-political aspect of everyday life in Iran. The exhibition is shown thanks to the cooperation of the "Atlas Sztuki" gallery.
Coordinator: Michał Sierlecki
Curator: Peggy Sue Amison