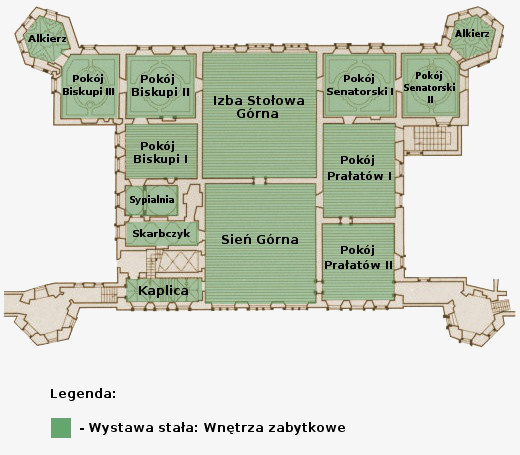 Closed: Senator Suite

Due to the preparations for and installation of the exhibition Visiting the Bishop – Baroque Art from the Collections of the National Museum in Kielce, showing the furnishings of the Senator Suite at the Former Palace of Kraków Bishops at the Museum of Chełm Land in Chełm, the exhibition will be unavailable from 3 August 2017 until further notice.
The permanent exhibition is organized on the first floor of the 17th-century Cracow Bishops' Palace. One may see there precious decorative arts objects and a unique set of portraits of the representatives of Polish gentry in the Upper Hall.
Another valuable element of decoration is huge French tapestry from the half of 18th c. made according to the painting by famous Charles Le Brun - "The Battle of Alexander the Great with Persians at the Granicus River". In the same chamber we may also admire German furniture of an extraordinary artistic class level – a pair of inlaid dowry chests (Franconia, 1580-1590) with excellent inlaid decoration, a hunter's chest (beginning of the 17th c.), two hall wardrobes (Frankfurt, 17th/18th c.), and finally, a south German wardrobe with rich figural, animal and floral inlay (1st half of the 18th c.). There is also a so-called Gotic chair from Sancygniów with Dębno coast of arms, the monogram HK of its author (Hans Kuntz from Cracow) and the date 1588.